Download Spreadtrum Driver for Windows
Spreadtrum driver free download
Download Spreadtrum driver for your computer and learn how to install spreadtrum driver on windows 10,8,7,
This Spreadtrum Drivers
 will help you to 
connect
your Spreadtrum Smartphone And
 Tablets
to computer without the need of installing the adb driver or any other
driver package
.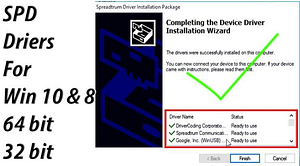 SPREADTRUM DRIVER PACKAGE FEATURES
We have managed to share these Spreadtrum Manual Driver package,
which can be install manually after download.
You can easily install the Drivers through the Device Manager Menu or by right clicking on the INF file and Selecting Install Option.
It Supports SPD Flash Tools
It compatible with the
Spreadtrum Flash Tool
(spd flash tools,
which is used to flash the stock firmware On
 the Spreadtrum Smartphone and Tablets or during the package flashing.
Also Supports writeimel Tools
It supports WriteIMEI Tool which helps you to Write or Flash IMEI on your Spreadtrum Smartphone and Tablets.
You may need to install all the 3 available drivers on your computer in order to flash the firmware on Spreadtrum Devices.
It's Supports Box Software
It supports various Box Software including Volcano Box,
Miracle Box
, Medusa Box, Piranha Box,
Infinity Box, Falcon Box which are also used to Flash Firmware and
IMEI on the Spreadtrum
devices.
Manual driver installation Free download
File name: SCI Android USB Driver Jungo Internal
Alternative name: sci_android_usb_driver_jungo_internal.zip
Compatible With: Windows Computer
File Name: SCI USB 2 Serial v1.5.0.1
Alternative name: sci_usb_2_serial_v1.5.0.1.zip
File Size: 355 KB
Compatible With: Windows Computer
File name: Spreadtrum USB Driver 20131114
Alternative name: spreadtrum_usb_driver_20131114.zip
File Size: 5.58 MB
Compatible With: Windows Computer