EFCC Warned Nigerian Against Selling of Their NIN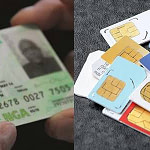 EFCC has warned Any Nigerian Against Selling of NIN
The Economic and Financial Crimes Commission (EFCC) warn nigeria over NIN registration promise to prosecute anyone caught doing this.
EFCC has warned that any Nigerian caught selling his-her National Identity Number (NIN) could face criminal charges.
Please henceforth never help anyone to register any mobile SIM CARD either for VOICE or DATA using your NIN and or ID Card.

If such SIM CARD is used to perpetrate Kidnapping or Banditry act, the person whose identity shows on the SIM CARD will be held responsible for the offence committed by the criminal.
Also, never allow people to use your phone to CALL anyone in your absence.
Never let anyone use your phone to SEND MESSAGE to an unknown person.
Also, never allow anyone to use your phone to BROWSE any SITE without your knowledge of the SITE to be visited.
The use of NIN number being integrated with SIM CARD now will expose the identity of the owner of a SIM CARD used for nefarious activities.
Now, your NIN number is as important as your BVN number. Please keep them safe to yourself.